ANDEE RUDLOFF
PUBLIC ARTIST, MURAL MAKER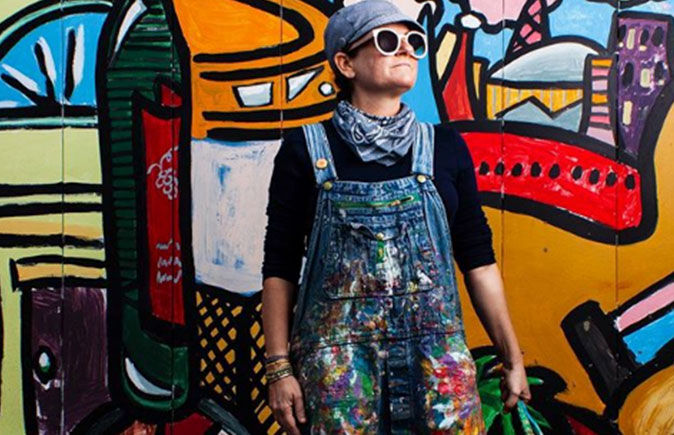 Painting The Town With Mural Maker Andee Rudloff
Born and raised in Bowling Green, Kentucky, artist Andee Rudloff has a mission to bring public art to communities and to bring communities together through public art. Known for her giant outdoor murals in the small towns of Kentucky and the local neighborhoods of Nashville, Rudloff has been changing landscapes with bright, visual murals that span 25 years. With what she calls more of a working class approach and background from her Kentucky roots, Rudloff swears by her well-worn Liberties as her standby uniform when creating murals that center towns and neighborhoods, whether rural or urban.
A teacher and educator, Rudloff aims to get multiple generations involved in plotting out projects and encourages community members to paint with her. Her non-commercial works bring a sense of pride and a sense of place to small towns and rapidly shifting neighborhoods with a style that is both simple and powerful—often recalling a feel of symbols, pictographs or hieroglyphs that tell stories in a populist, democratic way. She recently worked on three large, prominent mural projects during a cultural exchange with Nashville's sister city of Magdeburg, Germany. We caught up with her between teaching and art organization gigs to find out more about what makes her tick.
"THE REALITY IS THAT WE ARE ALL ARTISTS; WE JUST HAVE TO COMMUNICATE IN DIFFERENT WAYS"
How did you get started painting murals?
I started interpreting life through visual means as a kid. Then as I got older and got to study fine art I learned how to express myself through art. Being from a working class town, none of my family members really go to galleries or museums—it's not that they have a big opposition to it—but they're working when those places are open. No one could ever come see what I was doing, so it got me thinking how cool it would be to take what I was doing to the street so people could see it when it works for them and on their time.
What are some of your favorite ways to paint?
Some of the most fun murals have been working with entire towns or cities on projects where I can invite people to paint with me. Those happen in big cities as well as small towns as a way for me to use my skills but also as a way for people to bring their voice and ideas to the process.
I've been working a lot in Nashville, working with communities that are really feeling the growth of Nashville—they're wanting to root themselves and provide an identity to folks that don't know what this part of Nashville is like. So those murals hopefully convey a personality and an identity for people who are new to town.
Why do you paint and work in Libertys?
This isn't just to brag on Liberty overall, but I really do see myself as more of a sewing and reaping sort of person. So overalls really fit more of how I work. I am more about planting seeds of curiosity and creativity and watching them grow, that kind of vibe. I'll go to museum openings wearing Liberty overalls and everyone knows I'm going to show up with these paint-covered overalls on. My background is very much working class and I really do feel like they fit who I am and how I work as an artist.
Growing up in Kentucky I had people tell me to dress for success. For me it became so essential to dress in something that was practical. Initially I would use a lot of scaffolding and ladders—which requires you to climb up and climb down—so if you had a pair of Libertys on you could pack yourself down with everything you needed, climb 30 or 40 feet up and stand up there for a good few hours and you were good. Also, they are amazingly durable—today I broke out a pair that has got to be 24 years old. They are thin as paper and have spots of duct tape, but I still wear 'em.
I have overalls in various stages. They are just incredibly durable and they become a canvas all in themselves. When I wear 'em, people want to know the stories behind every swatch of paint. They just literally become a piece of art themselves. I had an art center in Nashville auction off my overalls when I was done working there. I can't remember exactly what they went for—all the money went to charity—but I think they went for over a thousand dollars, which I thought was pretty remarkable.
Is there a need to bring more outdoor art to smaller towns, like where you are from?
Even tinier towns than where I grew up are using public art and creative placemaking to tell their story. People come into these small towns all over Kentucky and Tennessee and—we'll just say they have seen better days. If you see an abandoned building, it doesn't speak well for the town because it may look forgotten. You utilize art and all of a sudden people are going to that town to see that mural.
One town—Morgantown, Kentucky—asked me to work with them on a mural and it not only transformed their town, it transformed their community. It was the side of a building that had burned down. Now, to make a long story short, that whole area in front of the mural has music every month and they've turned it into a courtyard where they host all sorts of events. It's become a gathering spot for a town of 2,500 people. It's inspired other creative people in their town to start painting murals and to speak about what they make or what they do.
What's your most memorable project?
In Nashville, there is one at a place called K Bobs and Pizza Perfect. It's in Hillsboro Village right near Vanderbilt medical center, most notably Vanderbilt Children's Center. That is a big deal because when we were doing the mural some of the patients and their families from the hospital got to come and paint. Of course, the community turned out in full force. You had students from Vanderbilt, from Belmont, from Lipscomb and people who were walking home from work joining in. It was right before Nashville got covered up in murals from people from all over the place. A mural that big going up was kind of an 'a-ha' thing.
My mom was in the middle of battling brain cancer at the time and was getting treatment at the hospital. And, you know, it just felt I was in the right place, doing the right thing.
Why is bringing art to smaller communities important?
We have a whole generation who has lost their creative confidence. It was downplayed and many schools didn't even have art programming. So you have a couple of generations that don't know how to communicate creatively through images.
The reality is that we are all artists; we just have to communicate in different ways. Some people are very much attached to realism and others are only looking at the shapes. If we can be just be okay with the fact that we think very differently—so how we are going to create images is going to be just as different—we can free ourselves up and get reconnected in that way.
Any final thoughts on why neighborhood art is important?
It's getting harder and harder to get people to pay to go see art in museums that is curated, or overly curated. Having public art is just essential to existing. That's how I feel.