MISTY WALLING
RAISED RIGHT IN LIBERTY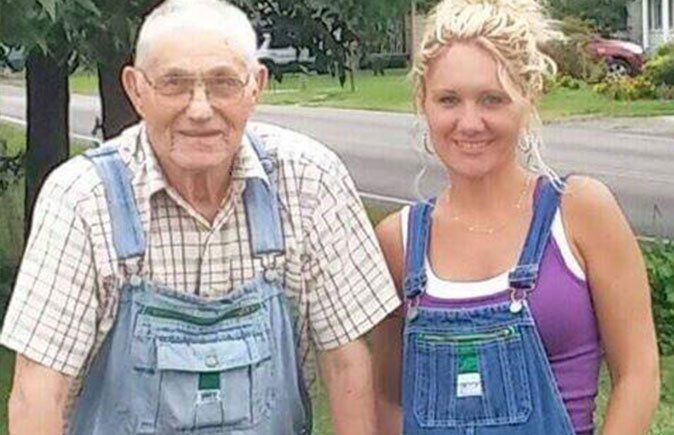 Raised Right in Liberty
Five generations rooted in Liberty is not a story you hear every day. But from the small Tennessee town of Spring City we caught wind of a grandfather who wore his Liberty Overalls nearly every day of his life and passed his ethic on. Raising three kids on his paint-and-body shop business, handing out Halloween candy or whittling cedar on the front porch while the grandkids went for his green zipper to get dollars for ice cream—he was Liberty Overalls for all occasions. He passed his love for Liberty to his grandkids—buying them a pair from the local general store almost as soon as they could walk.
In a small town, your name matters. By all accounts Blaine Godsey knew that well—raising three kids a steady diet of work ethic, self-reliance and honesty. He needed toughness and Liberty was the name he trusted. When he passed, his family buried him in his Liberty Overalls—because that's what he would have wanted. They each held onto a pair of his Libertys and wear them when they want to remember him. We reached out to his granddaughter Misty Walling, who had nothing but good things to say about her grandpaw and his lifetime allegiance to Liberty Overalls.
"ANY OF US, IF WE ARE FEELING LIKE WE NEED TO FEEL CLOSE TO HIM THAT'S WHEN WE WEAR OUR LIBERTYS."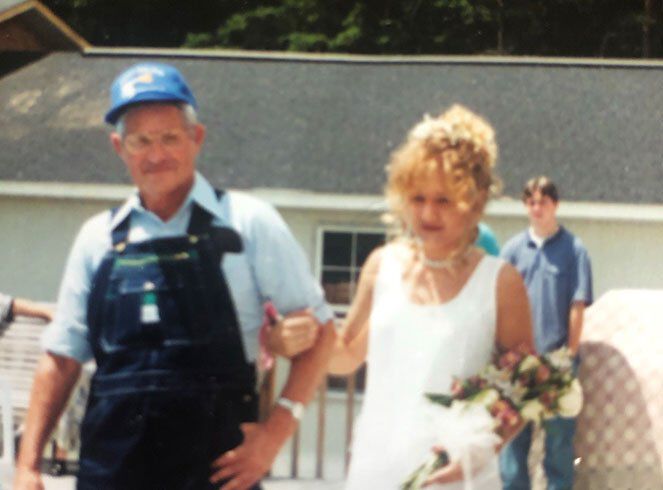 Where are you from and where was your grandfather from?
My grandfather and I are both from Spring City, Tennessee. We have three stoplights, two gas stations and that's it. One grocery store—it's a Piggly Wiggly—and if you can't find it there you are out of luck. But I was born and raised here and my grandfather was born and raised here.
My grandfather was a welder and then opened his own auto body repair shop. He couldn't read and write because he wasn't able to go to school when he was growing up—he and his older brothers had to work to support the family. He was able to start his own business that he ran until his eyesight failed him, but he was known as the best around.
And he was a Liberty man?
Literally, everyone who knew him knew he wore Liberty overalls. If you saw Liberty overalls you thought of my grandfather. You never saw him in anything else. In my life I think I saw him twice in something else—at funerals when my grandmother made him put something else on. But even at his own funeral he was wearing Liberty overalls. That's what he would have wanted so that's what we did.
Every baby that was born into the family, that's what he wanted to get for them. As soon as they were big enough to fit into a pair, that was their birthday gift or their Christmas gift. I have pictures of every baby in the family in their Liberty Overalls. I just had a granddaughter three days ago and she already has a pair of Liberty Overalls. My oldest son—in memory of my grandfather—he got the Liberty tattoo. It was his first and probably last tattoo.
When he left us, everyone in the family we all took a pair of his overalls, we tried to get a pair that he had worn and worn. Any of us, if we are feeling like we need to feel close to him that's when we wear our Libertys. He loved Halloween, now my uncle and I sit outside and hand out candy at his house in our Libertys because it is just a part of him. It may sound silly, but that's just what he was known for so that's just what we do.
What made so much sense to your grandfather about wearing Liberty everywhere?
I don't know, but everything he needed was right there. I know they were comfortable for him because he never had to worry about his shirt coming untucked and getting the plumbers hind end. He always had .22 shotgun shells in one pocket, his change in the hip pocket and his front pocket was where his wallet stayed—and that was my favorite because that's where I got my ice cream money.
What is most remembered about him from people in the town?
He absolutely loved children. It's a small town so if you passed by their house you typically stopped just to go in to see what was on the table and what was going on. He would sit in the front yard and whittle cedar when he was resting. There was always a yardful of kids and all the kids knew that the front middle pocket was where his wallet was and where they could get dollars for their iceies and ice creams. They would all pull that zipper in the front to get those dollars out.
What is different about Spring City and living in a small town?
Just the sense of family here. You know everyone. You know their cousins, you know their mother, you know their brother. Half the time you know the name of their dog. It's just a sense of community—that small town environment. Half the people who live here don't lock their doors at night. You may not get along with your neighbor, but when push comes to shove if something happens there is that love there. We still bake casseroles when someone passes away or has a new baby. It is a very tight close-knit community, and everyone who lives here still speaks so highly of my grandfather.
Do you think your name matters more in a small town?
I do, because in a smaller community everyone knows what you do—it gets around. If you are that type of hardworking, good-hearted, give-the-shirt-off-your-back type of person it is super important in a small town because everyone is going to know who you are. If you're not that kind of person everyone's going to know that too. In a small town like this we do raise each other's children—at the ballfields and places like that—and to know that your community is full of people like that that love their children and love your children—it's a huge deal.
What values of self-reliance do you think your grandfather instilled in your children?
My oldest son reminds me of him daily, now that he's become a man and got his own job and had his own child, I think so much of my grandfather. There was so much that he was instilling in him I didn't see until now. Because they kept my son while I worked.
He taught him how to garden and plow a field and drive a tractor…do those man things. I didn't realize it was happening until he started needing those skills. That's where that came from.
What else sticks out in your mind about your grandfather and Liberty?
The one thing that stands out was they were so important to him that every child in the family had a pair. That's something that was always bought for every child. He always got them at Kemmer's General Store in the unincorporated community of Grassy Cove next to us. They have a little general store that sells gas, Coca-Colas and Liberty Overalls.
What would your grandfather think about all this?
For some people it may seem silly but if he knew about this he would be so proud. It would absolutely make his day. He was known to be a great man and a great paint/body man but the fact that there was story about him because he had his Liberty Overalls on all the time; he would just be tickled to death.